Safety Facility Feature: 10 Years Later, CHS Keeps Up Tradition of Safety at Savage, MN, River Terminal
CHS' barge and rail terminal at Savage, MN in September 2019. The 800,000-bushel steel tank at right is a new addition since Grain Journal last visited 10 years ago. Photos by Ed Zdrojewski.

Ten years ago, Grain Journal paid a visit to the CHS river terminal on the Minnesota River in Savage, MN in January 2009 to report on the huge cooperative's successful safety programs there.

The terminal was one of three at Savage, as far as you can get on the Mississippi River system from the Gulf of Mexico. The CHS terminal was loading about 1,000 barges a year with corn, soybeans, winter wheat, and spring wheat, some brought in by truck from local producers and nearby CHS elevators and some by rail on the Union Pacific.
Operations Manager Clint Gergen attributed the terminal's strong safety record largely to the company's commitment to automation. Among other things, on a below-zero day like that one in 2009, automating facility operations reduces the number of times workers must venture out in harsh weather. Preventive maintenance played a big role in preventing potentially dangerous accidents.
Gergen no longer is at Savage though he remains with CHS as a merchandiser in the corporate office in Inver Grove c Heights, MN. Today, day to day safety at Savage is the responsibility of Terminal Manager Greg Oberle, who has been in that position since 2005.
"We continue to work on improving safety," he says during an interview in September 2019.
While the 10 years since Grain Journal's last visit haven't been completely injury-free, Oberle is proud of the current record. During the 2019 visit, the terminal had gone 2,644 days with out a lost-time injury or illness, roughly seven years and three months.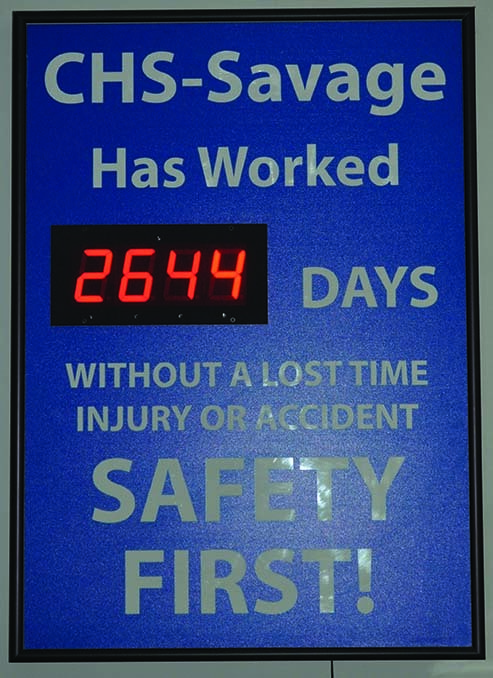 As of September 2019, the terminal at Savage has gone more than seven years without a lost-time illness or injury.

Expanded Commitment
While Oberle's crew of nearly a dozen work hard every day on safety issues, perhaps the biggest change occurred at the corporate level starting six years ago. That's when CHS hired a full-time safety coordinator at its export terminal in Myrtle Grove, LA. Things have grown rapidly from there.
"When I joined CHS 6-1/2 years ago, the company went from two to 16 full time employees with my title," says Kevin Nelson, EHS (Environmental, Health, and Safety) specialist. Nelson coordinates EHS issues at seven CHS grain elevators, including the terminal at Savage.
Nelson is particularly fond of the Savage location: "The guys here are engaged," he says. "You don't have to remind them to wear their PPE (personal protective equipment) or to put things away when they're done with them."
Part of the responsibility of the EHS staff has been the development of new and improved educational materials related to safety. "We used to rely on a lot of materials produced outside of CHS," Nelson says. "Those were fine, but now we have a lot of materials we've produced in-house to reflect our own operations. A lot of it is online, too, which is an effective way to reach our younger workers."
A Fall Protection Systems trolley-type unit has been extended out from the west end of the rail shed to provide 100% coverage while loading shuttles.

Physical Plant

On the physical level, a lot of improvements around the terminal have been driven by changes in operations there.
One big change in the past couple of years has been a shift away from barge loading to more rail loading. In 2015, CHS added infrastructure to become a 110-car shuttle loader with the ability to load shuttles in approximately 11 hours.Several factors played into that decision, says Oberle:
• Logistical problems on the Mississippi River system that have limited barge traffic. "Most years, we can start moving barges down the river some time in March or April," says Oberle. "This year, with all of the heavy rains in the spring and the flooding, we didn't start c loading barges until July. Barge loadings are down significantly this year due to flooding issues."
• Challenging overseas markets, which have reduced demand for grain at the Gulf, where most of the grain loaded on barges at Savage went.
• Those losses are partially offset by some increased demand for grain and byproducts domestically in the feed and biofuels industries, destinations usually reached more efficiently by rail.
Workers loading railcars in Savage had been using a trolley system from Fall Protection Systems inside an enclosed steel rail shed and three car lengths beyond the east end of the shed. Recently, CHS extended that trolley system out three car lengths from the west end of the shed to gain 100% coverage on fall protection while loading shuttles.
Also related to rail safety, workers use Control Chief radio remote control systems to control CHS' switch locomotives when moving railcars around the railyard for loading or unloading. Workers moving around the facility also are equipped with two-way radios at all times.
"Around the elevator and the barge loading dock, we're replacing ladders with catwalks wherever we can," Oberle notes. "We find that much safer.
"We're also working to streamline our standard procedures, such as confined space entry or hot work, in consultation with our EHS staff," he continues. "It's an extra step to get offsite approval from EHS for these procedures, but we get more interaction with them, and over time, they help us monitor those procedures to see if anything can be improved."
Ed Zdrojewski, editor